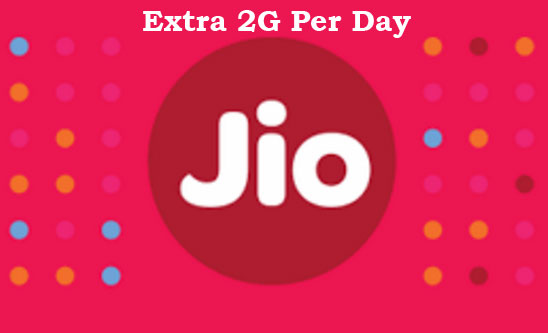 Reliance Jio is now offering additional 2GB data per day on its 4G network to its users, this plan is also applicable to the existing prepaid users of Reliance Jio mobile network.
Reliance Jio announced additional 2GB per day data on 4G network for existing prepaid users, this plan is available to the selected users and appears on MyJio app.
This service is offered as top-up available on the select data recharge pack and this option appears on the MyJio App of the user. This plan is reported to be appearing on the MyJio app for selected users.
There are no extra benefits like unlimited calls or free sms to the subscribers. Additional 2GB of data is per day is good offering from Reliance Jio for the heavy internet users. Users can use this extra data to see high quality videos and movies on the internet. Heavy users of the Internet are using mobile phones to view movies, youtube videos, playing games and so on. All these activities require a lot of 4G data and this plan is good for such users.
This plan is available for limited number of users and its appearing on the MyJio app which will expire on 6 August. If you this appears on your MyJio App you can go ahead and take benefits of this plan.
According the reports this add-on is available on prepaid Rs. 399 plan which currently offers 84 days validity and comes with 1.5GB per day data. After accepting this offer users will get extra 2GB data per day and the total per day data will go up to 3.5GB.
This plan Rs. 399 also provides unlimited calling and 100SMSes per day.
Earlier this month Reliance Jio offered exchange offer plan C, in which anyone can exchange their existing smart phone in Rs. 501 with Jio Phone. In this plan user is required to purchase recharge of Rs. 99 for 6 months to avail this offer. This package offer 0.5GB data per day, unlimited voice calls and 300 SMS per day with a validity of 28 days.