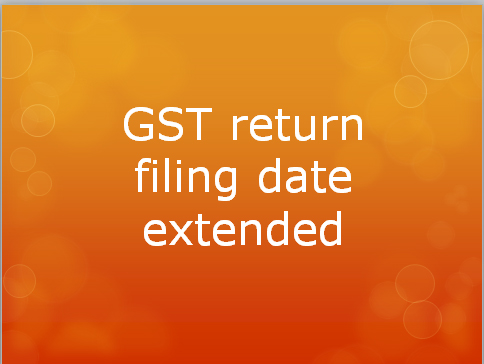 The Finance Ministry has extended the last date of filing of GSTR-3B sales returns for the month of September to five days from October 25. Simultaneously, businessmen claiming input tax credit (ITC) for the period from July 2017 to March 2018 can also claim ITC till October 25. The Central board of Indirect Taxes and Customs (CBIC) said that businessmen and industries had expressed concern over the last date for claiming input tax credits for July 2017 to March 2018 under GST, on October 20. "In view of this, the last date for filing of GSTR-3B returns for September has been increased to 25th October 2018," the CBIC said this in a tweet.
Finance Ministry extends GST return filing date
Under GST, the GSTR-3B of any month should be filed by 20th of the following month. Previously the time for filing of GSTR-3B returns for September month was October 20. Concerned over this, the traders had expressed concern over the fact that by October 20, the sale returns filed by the supplier will not match their sales returns. ITC has the advantage of taking advantage of the return on the basis of GST-3B, so the claims for ITC and GST-3B are being kept the same.
GSTN New Mobile Application
Goods and Services Network (GSTN) has made several new changes to make the GST process more simple and convenient. In addition, GSTN has launched a mobile app that will help in the work of executives who visit the business establishments, their godowns, and other places. GSTN said that with the help of this app, the officials will be able to collect the data of godowns, establishments, and photographs and send an online report on the spot. This app will be made available to the tax officials of Delhi firstly experimental. Later it will be given to the states and union territories. This app will have to prepare a report on the field tour after the most important work- registration.