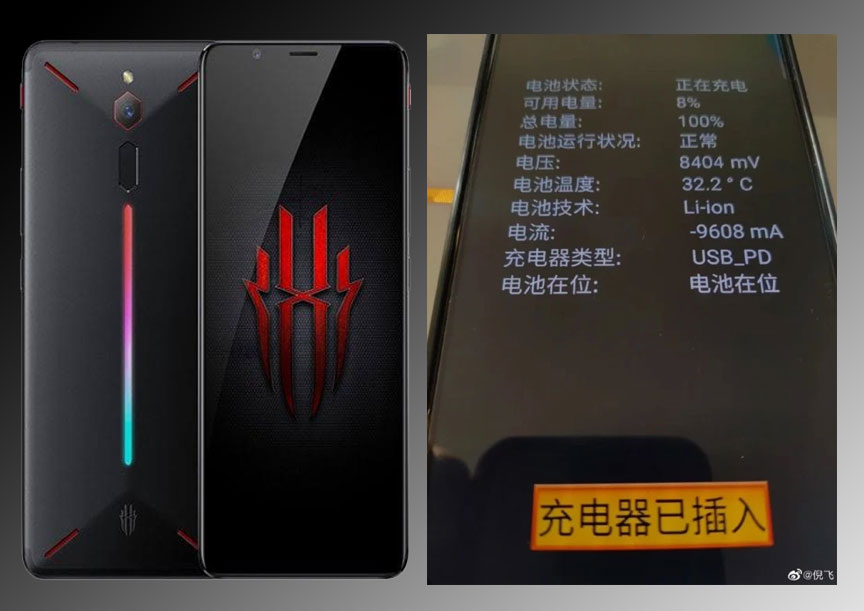 Chinese smartphone manufacturer Nuba is seemingly working on the most advanced 80W fast charging for its next Android Smartphones. The company posted Weibo revealing details of 80W fast charging for their next smartphone.
The Nubia co-founder and President Ni Fei confirmed this by posting a message on the Weibo social site. According to the official post the new upcoming devices would accept charging at 9.6A/8.4V, which is near about 80W power supplied. The company is expected to unveil next smartphone Red Magic 5G with the 80W fast charging support. As per reports Red Magic 5G will be released sometime end of this year.
These days most of the companies are bringing latest smartphones with fast charging support. This is possible due to big advancements in the mobile charging technologies. Nubia is working on the most advanced and fastest charging technology, which will enable their smartphones to charge with 80W power. The 80W power is really high for mobile phone and at this rate mobile phones could be charged very fast.
These many Android phones are coming with the fast charging support with 18W, for instance Google's Pixel and the iPhone comes with the 18W charging support. Samsung released many phones with fast charging support upto 45W charging speed.
We have seen the latest Oppo phone which comes with the 65W fast charging support. Many other companies have released their smartphones with fast charging support.
These days many laptops are coming with fast charging support up to 100W for Razer laptop. This is the first time when 80W fast charging is coming to the Nuba smartphones.