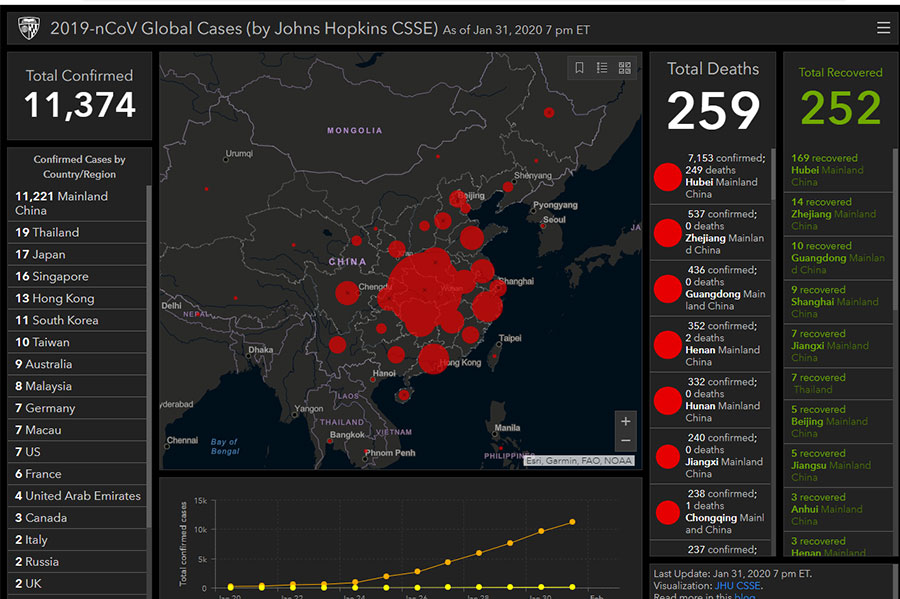 Deaths due to coronavirus outbreak are rising at a fast speed, till now 259 deaths reported and there are over 11,374 coronavirus confirmed cases globally. The recent outbreak of coronavirus spreads to the mainland China as a confirmed case has been reported from Tibet.
According the official reports 46 more people have died in China, raising total deaths 259 till now, while over 11,374 confirmed cases have been reported.
One confirmed case of coronavirus infections have been reported from Kerala India.
A special flight of Air India brings back 324 Indian nationals from Wuhan China, majority among them were Indian medical students. Indian embassy thanked Chinese government for facilitating this flight.
US, UK and many other countries already evacuated their nationals from China, more countries have announced their plans to evacuate their nationals from Wuhan. The Wuhan city of China is the center of outbreak of coronavirus, which is most affected by this virus.
WHO declared this outbreak of virus as global health emergency, organization urged governments around the world to "take action".
Countries around the world are taking fast action to prevent spread of virus. The health authorities of Singapore announced to ban the travelers from China. Mongolia also said to close all the ports of entry from and to China.
Many Air Lines have stopped flights to and from China, The Delta Air Lines and American Airlines already reduced the flight services to China. These two flights are planning to suspend their operation to China.
The Coronavirus is spreading fast, countries around the world is taking steps to stop virus infection in their country.