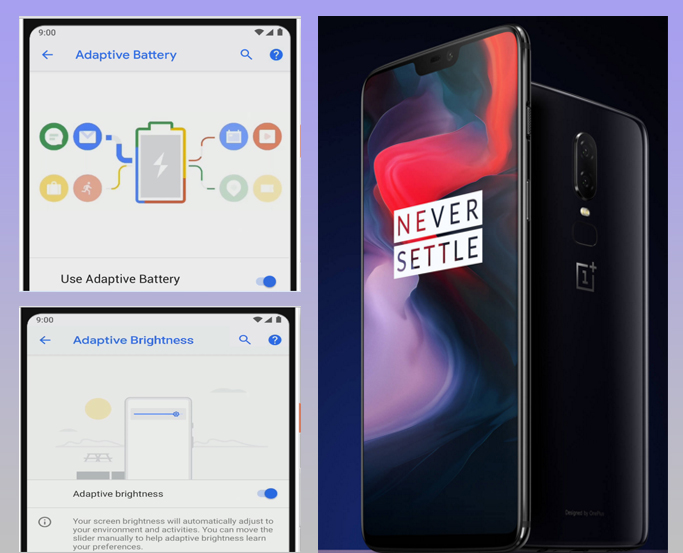 Chinese smartphone manufacturer OnePlus has announced the release of Android Pie 9.0 build for its flagship smartphone OnePlus 6. This is major update for OnePlus 6 mobile phone as its user will be able to upgrade phone operating system to Android 9.0 in coming days.
This update is released ahead of OnePlus 6T release, which is the successor of widely used OnePlus 6 smartphone in the market.
This update will bring "Adaptive Battery" feature of OnePlus 6 that automatically learns which application user use most. Based on the application usage collected operating system will better manage the battery life of the phone. This is one of the most exciting features of this release which prioritize battery use of the phone through machine learning.
According to the statements issued by OnePlus Android P 9.0 has been fully tested for OnePlus 6 and ready to roll out updates for this phone. Android P 9.0 was available through beta plan and it's tested by community. But fixes were also made, now it is ready and released.
Android Pie 9.0 brings Android Pie UI, Android P gesture navigation, expanded accent color customizations, Indoor navigation with Wi-Fi RTT, Dashboard, App Timer, Do Not Disturb, Wind Down and many other features. Android P 9.0 operating system brings machine learning features for operating system to the OnePlus 6 smartphone.
This update for OnePlu 6 is exciting updates for this phone as it brings all the features of Android P 9.0 in the user's hand.
OnePlus 6 is one of the most advanced mobile phone in the market this year and with the availability of Android P 9.0 will help in increasing its popularity in the market.
OnePlus 6 is one of the best smartphone in 2018 and it is in the list of top 5 premium smartphones in the market.
According to the popularity here is the list of top premium smartphone in 2018:
1. Apple iPhone Xs Max
2. Apple iPhone Xs
3. Apple iPhone X
4. OnePlus 6
5. Samsung Galaxy Note 9
6. LG G 7 ThinQ
7. Samsung Galaxy S9+
OnePlus 6T is going to release soon by Chinese smartphone manufacturer OnePlus. As per the rumors OnePlus 6T is expected to come with AMOLED display with 1080 x 2340 resolutions, 8GB RAM and 128GB storage.
--Deepak Kumar