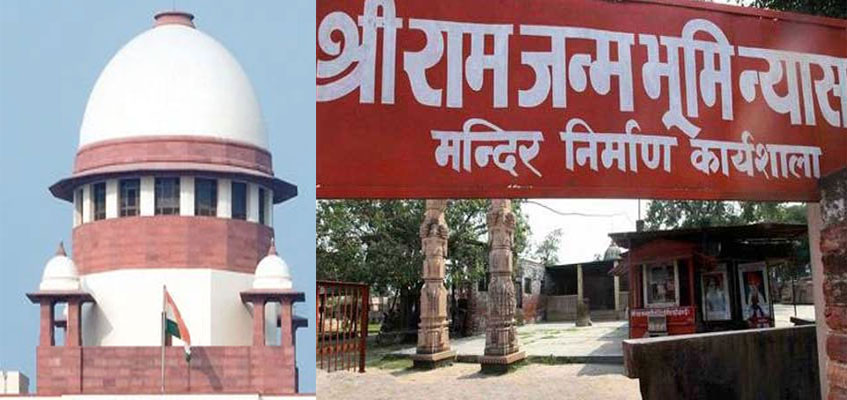 Supreme Court of India pronounced its final verdict in Ayodhya case today, the apex court considered the evidence of the Archaeological Survey of India (ASI) in its 1,045 page judgment, which confirms the remains of a building "that was not Islamic" beneath the demolished mosque.
The Supreme Court of India pronounced historical judgement on Saturday, today, which gives 2.77-acre entire disputed site to Hindus. The SC Judgement paves the way for the construction of Lord Ram Temple in Ayodhya.
The Supreme Court of India instructed the Government to provide 5 acre alternate land to Muslims for the construction of Masjid. SC directed to hand over a suitable plot of land measuring five acres to Sunni Waqf Board either by the Central Government or the State Government. SC gave the liberty to Sunni Waqf Board to construct a Mosque at the allotted land.
A constitution Bench led by Chief Justice of India Ranjan Gogoi pronounced the historical judgement in Ayodhya case. The Bench hearing this case comprised of Chief Justice Gogoi, Justices S.A. Bobde, D.Y. Chandrachud, Ashok Bhushan and S. Abdul Nazeer. This verdict is coming after a 40-day intensive hearing in Supreme Court. It is to be noted that Chief Justice Gogoi is retiring on November 17.
The five-judge Constitution bench ruled unanimously that the disputed land should be handed over to a trust. The Centre must constitute the trust to oversee the construction of a temple.
Elaborate security arrangements have been made across the country in the sensitive areas to maintain peace in the Country. All schools and colleges will remain closed on Saturday in Delhi, UP, Karnataka and other states on Country.
Elaborate security arrangements are have been made in Ayodhya and other sensitive places in Country.
According to the writing of Skanda Purana, the Ramjanmabhumi is the place of special religious importance to the Hindus.
The photographs from the Archaeological Survey of India excavations also presented in the case to prove that large religious structure pre-existed the Babri Masjid.
At the outset, the Bench observed, "This Court set up under the Constitutional scheme should defer from interfering with the faith and belief of worshippers. Secularism is basic feature of the Constitution."