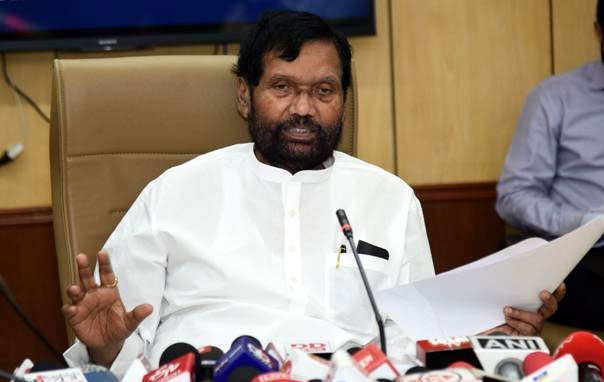 Center Government has issued deadline for all state and UT's to implement "One Nation, One ration card" by June 30, 2020 without fail. The One nation, one ration card by CG helps the migrants to avail subsidized ration from their new place.
On Saturday, the Central government has declared a new policy on ration card, "one nation, one ration card" system "without any fail," which should be implemented in all the Indian states and Union Territories (UTs) within a period of one year. According to this policy everyone should submit a new application and get the new card before till June 30, 2020. The government provides one year time to achieve the goal through the Public Distribution System (PDS).
"One nation, one ration card" system, enables the public to get the subsidized food grains from any ration shop in India. Currently, when people relocated to a new place either they have to apply for a new card or transfer the card to the new place. Under this new system "one nation, one ration card," when people relocate to a new place they can buy ration without any delay of process.
While talking about "one nation, one ration card" system, Union Minister of Consumer Affairs, Food and Public Distribution, Ram Vilas Paswan pointed out that under this Public Distribution System (PDS) there are 10 states already receiving the social security benefits.
The 10 states, who already enjoying the social security benefits from the Public Distribution System (PDS) are Andhra Pradesh, Telangana, Tripura, Haryana, Gujarat, Jharkhand, Maharashtra, Karnataka, Kerala, and Rajasthan.
While addressing the media Paswan ensured that by June 30, 2020, "We have written letters to the state government to fast track the implementation of this system." The Union minister also said that the "one nation, one ration card," also he added that this new system will enable to find out the fake ration card holders.
"This will provide freedom to the beneficiaries as they will not be tied to any one PDS shop and reduce their dependence on shop owners and curtail instances of corruption," the minister's department said in a statement.
Mr. Paswan also expected that the new ration card policy of "one nation, one ration card," will support migrant laborers from across the country when they move from one part of the country to other part for the better employment opportunities, it can ensure their food security at the cheaper amount. Within next two months people from Telangana and Andhra Pradesh will be able to grab the PDS shops. The press release also pointed out that the main objective of this system is the policy should be implemented in throughout the country in a time-bound manner. But, the policy is welcomed by all people in India, as the previous system seems to be hectic and tedious due to the migration of people from one state to another state due to the searching of better standard life.