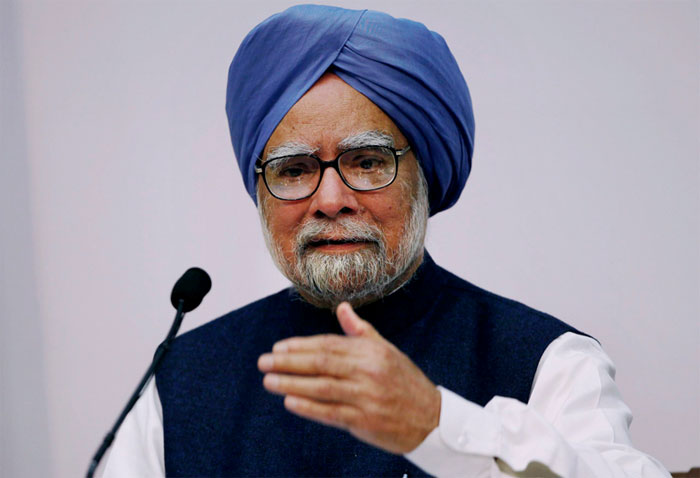 Former prime minister Manmohan Singh on Friday attacked the Modi-led BJP government for the sorry state of Indian economy that is now reeling under several issues, including recurrentoil price rise and depreciation of rupee.
Dr. Singh, speaking at the book launch function of party colleague Kapil Sibal's book "Shades of Truth", blamed the Narendra Modi government over its handling of the economy. He said the state of affairs of the country and the economy were a "powerful indictment" of the BJPgovernment.
The former PM said that demonetization and the hasty implementation of the Goods and Services Tax (GST) had hurt enterprises, while our youths are desperately waiting for the promised 2 crore jobs per annum. He also added that the employment growth rate has been declining in the last four years.
Responding to government provided data on job creation, he said: "People are not impressed with the figures that are being put out by the Modi government to justify the creation of large number of jobs."
Raising serious concern on the growth in industrial output, he said that industrial production and exports are nearly stagnant. Programs like "Make in India" and "Stand-Up India" have yet to make any meaningful impact on growth of industrial production. Small and marginal enterprises have yet to derive any significant benefit from ease of doing business scheme. Demonetization and hasty implementation of GST have badly hurt these enterprises.
On bringing back black money from abroad, which was an ambitious election promise by the Modi government, Manmohan Singh said that nothing concrete has been done to bring back the promised billions of dollars allegedly held abroad as black money.
Speaking on the safety and security of women, SCs and minorities, he commented that they are increasingly living in an environment of insecurity. Dr. Singh further pointed out that the present government has 'slowly but surely' undermined the values that any democratic polity should fiercely protect.
He also alleged that important national institutions vital for promoting good governance are "experiencing unprecedented new strains" under the Modi government. The former prime minister also touched upon India's issues with neighboring countries by saying that "our relations with our neighbors have deteriorated in the last four years."
Manmohan Singh spoke on a range of issues and stressed the need of a meaningful national debate onthe challenges the nation is facing now,also the failure of ruling dispensation in fulfilling its long list of promises made before 2014 elections.
--Deepak Kumar