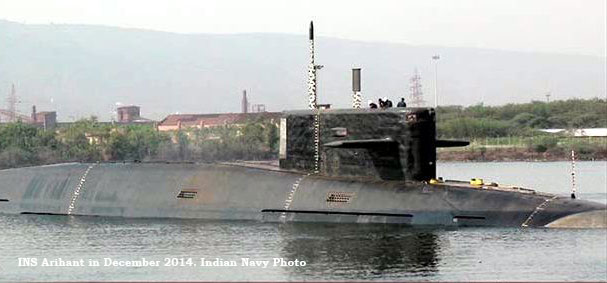 India's first indigenously developed nuclear submarine, INS Arihant on Monday (November 05) returned to the Indian shores after successfully completing its first deterrence patrol. Congratulating the crew of INS Arihant, Prime Minister Narendra Modi lauded the accomplishment calling it a historic moment and said that this success gives a fitting response to those who indulge in nuclear blackmail.
The success of the patrol means the submarine is completely operational now and has attained the capability of firing nuclear weapons from land, air, and sea.
Adding that the completion of the deterrence patrol was a big step towards strengthening the country's security, PM Modi stated that India's nuclear triad will be an important pillar of global peace and stability.
Indian Defence Minister Nirmala Sitharaman also applauded the success and said that it places "India in the league of the few countries that can design, construct and operate Strategic Strike Nuclear Submarines (SSBN)."
Armed with four K-4 submarine launched ballistic missile with a range of 3,500 km, the 5,500 tonne nuclear-powered Arihant was launched by former Prime Minister Manmohan Singh on 26 July, 2009 on the anniversary of Vijay Diwas (Kargil War Victory Day). It was launched into the water at the ship-building centre in Visakhapatnam and the sea trials began from December 2014
INS Arihant was built with an extensive assistance of Russia and the 100-member crew of the ship has also been trained by Russian specialists.