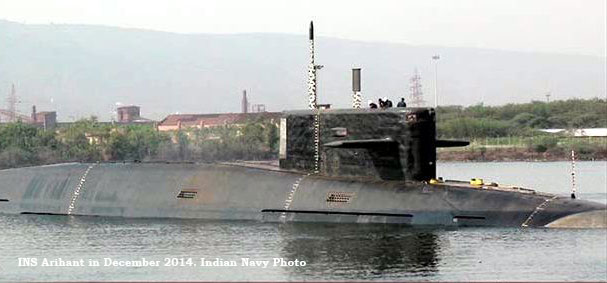 India has created a new history in the field of defense. India's first atomic ballistic missile submarine, INS Arihant, has brought India on a new record in field of nuclear weapons through its first distant patrol (preventive patrol). Now India is all set to reach at new avenues in terms security and nuclear policies. With this success of INS Arihant, India has achieved all three grade of nuclear weapon attacks like in air, water and space. On this occasion, Prime Minister Narendra Modi (PM Modi) congratulated all the people associated with this mission and declared a great achievement for the country. INS Arihant is our first nuclear submarine of India with superb capability to accomplish great missions ahead.
HIGHLIGHTS
INS Arihant can fire nuclear weapons from underwater
Arihant is an important part of India's no-first-use nuclear policy
Arihant is part of a top-secret project
The 6,000-tonne Arihant, is complete pack of power designed to stand against enemies. It is armed with 12 B-05 submarine-launched ballistic missiles (SLBMs) capable of delivering nuclear warheads up to 750km away. The range, however, is a limitation and India needs to deploy SLBMs capable of striking targets thousands of kilometers away, Indian defense experts said.
After achieving this accomplishment, India has now become the sixth country after America, France, Russia, Britain, and China, who has succeeded in building its nuclear submarine. Arihant, weighing six thousand tons, with the missile ability to range from 750 to 3500 kilometers. From this, nuclear missiles can be lit from underwater. The aircraft can be target and controlled from underwater.
PM Modi addressed the people of the mission of INS Arihant, who created this history. During this, PM Modi said that India is a peaceful country. Our tradition of peace and harmony is our strength, not our weakness. We believe in harmony and peace but if anyone tried to hurt our nation and spoil the harmony, we will not leave that enemy. He also stated that in this modern era, there is a demand for a reliable nuclear deterrent time.
The success of INS Arihant is perfect answer against any nuclear attack threat. Now our country is readier to accomplish through the success of Arihant This is a major step towards national security and great challenge for the enemies. Our formal Prime minister shared a tweet sharing his joy and success story of INS Arihant, he said that "Dhanteras became even more special. He wrote that India's pride, nuclear ballistic missile Pandit Arihant (INS Arihant) successfully completed his first detent petrol successfully. I congratulate all the people involved in this achievement, especially INS Arihant's team, which will always be remembered in our history."