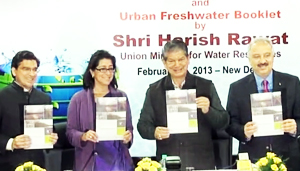 New Delhi, Correspondent
To address the ground water scarcity problem at rural and urban areas across the country, Union Water Resources Minister Harish Rawat Wednesday at a conference in FICCI auditorium asked the industry to explore cost effective and technical feasible solutions.
Rawat said it while addressing to Industry leaders at a conference 'Sustainable Safe Drinking Water in India' on Wednesday where also launched 'FICCI-HSBC Knowledge Initiative' and 'Safeguarding Urban Freshwater Bodies' booklets.
He appealed the industry to address the challenges in the water sector in the country- particularly in the field of recycling and reuse of water, water conservation and groundwater re-charge.
"There is also need to develop user friendly, and economical technologies, for water treatment, for widespread use in the areas, affected by water quality problems. Research for in situ-treatment of aquifer may also be pursued by the Research Institutes, with active participation of the Government, in the areas where geo-genic contamination, for example arsenic and fluoride contamination is high," he said.
"Till we could develop some feasible technology, it is our duty to provide piped water to such habitations. For this purpose, a closer coordination is required, between the Ministries, NGOs and industries. There are thousands of examples, where Governments are providing safe drinking water, through long pipeline networks," he added.
Asserting that the government is committed to provide all kind of assistance, to achieve the goal of safe drinking water, to all of our population, Rawat said, "The Continuous depletion of ground water is another area of our concern. Aquifer is our reserve bank, which holds the key to our water security. We are continuously pursuing with the State Governments, to enact the Model Bill on Ground Water Legislation, for better control and management.
"We are emphasising with the State Governments, to include roof top water harvesting, in the by-laws for the commercial and governmental buildings. For ground water recharging, our focus is to encourage the construction of small water conservation structures, which are easily doable, and need no high technology," he said.
"Technical assistance is also being provided by the Central Ground Water Board, in identification of contamination free aquifers, for augmentation of drinking water supplies, in the affected areas. Water quality of surface water, and ground water is monitored, on regular basis, by Central Water Commission, and Central Ground Water Board, respectively, to identify the water quality hot spots, and evolving remedial measures thereof," he added.
He further said, "National Water Mission, one of the eight Missions, under the National Action Plan for Climate Change, has been launched by our Ministry, with the objective of "conservation of water, minimizing wastage and ensuring its more equitable distribution, both across and within States, through integrated water resources development and management".
"This will also go a long way, for ensuring water use efficiency, and conservation of water, including drinking water supplies," he added.