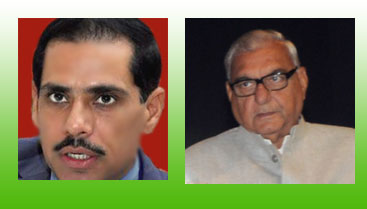 The Gurugram Police has registered FIR against Former Haryana Chief Minister Bhupinder Singh Hooda, Robert Vadra, and two real-estate companies: DLF and Onkareshwar Properties, in the 2008 fraudulent land deal case that has been in news for long.
They are booked under sections 120-B (criminal conspiracy), 420 (cheating and dishonestly inducing delivery of property), 467 (forgery of valuable security, will, etc), 468 (forgery for purpose of cheating) and 471 (using as genuine a forged document or electronic record) of the IPC and Section 13 of the Prevention of Corruption Act (criminal misconduct by a public servant).
Commenting on the latest development, Vadra - brother in law of Congress president Rahul Gandhi termed is as 'a diversionary tactic' and said: "It's election season, there has been an increase in oil prices so the government just thought let us divert the real issues that affect people with Robert Vadra's decade old issue. What's new in this?"
This case goes back to 2015 when the Manohar Lal Khattar-led BJP government in Haryana set up a commission to investigate the alleged wrongdoings by the earlier Congress government in the state. Since then, the news of alleged irregularities in the land deals have been doing rounds, although no one has been punished so far.
Earlier in February, CBI had filed chargesheet against the former CM Hooda and several others in a case of alleged fraudulent land deals in Manesar of worth Rs. 1500 crore.
In the recent FIR filed by the local cops, it is mentioned that in 2008,Vadra's Skylight Hospitality Pvt. Ltd. purchased 3.5 acre of land in Gurgaon's sector 83 from the Onkareshwar Properties at a price of Rs 7.50 crore but the cheque was never encashed.
It is also alleged that Vadra had later sold back the same land to the company for Rs. 55 crore. This way he was alleged to have benefited from the cheap land deals in which the then Congress government was involved in the transaction.
According to reports, Justice SN Dhingra commission, which was set up to investigate the alleged corruption, has found that Robert Vadra made illegal profits of Rs 50.5 crore from a land deal in Haryana in 2008 without spending a single penny. However, the findings of the report are yet to be made public.
Reacting to the latest development, IAS officer Ashok Khemka, who had cancelled Vadra's 2008 land deal with DLF has tweeted, "Dhingra Commission of Inquiry was wastage of time and public money. What a private man could do now, the State Govt could have done 3 years earlier. They had access to official records and my reports of 21 May, 2013 and 12 Feb., 2015. Shielding the corrupt is also a corrupt act."
Businessman Vadra on the other hand has time and again claimed that he is a victim of political witch-hunt by Bharatiya Janata Party (BJP). The Congress party has also said that this was a ploy by BJP to target Gandhi family.
BJP on the other hand has responded by saying, "This is not a personal fight, this is our collective fight against corruption. BJP govt in state & center does not tolerate corruption at any cost."
--Deepak Kumar