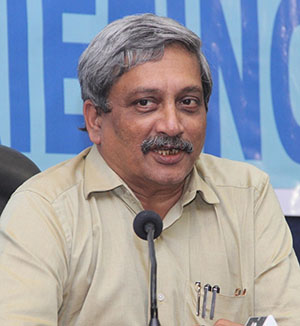 Ailing Goa Chief Minister Manohar Parrikar has been admitted to AIIMS in Delhi as his health condition deteriorates today. This pushes the Bharatiya Janata Party (BJP) to save their government in Goa as they send a team to the coastal state to take stock of the governance situation.
Earlier in June this year, Mr. Parrikar was in United States for nearly three months to undergo advanced treatments for pancreatic ailment. He once again in August flew to the States and came back on August 22.
A week after his return from US, he was once again admitted to a hospital in Goa and today moved to AIIMS. As per reports, he has expressed his unwillingness to continue in the job, and hence BJP is expected to find an alternative at the earliest.
Meanwhile, one of BJP's key alliesin Goa the MaharashtrawadiGomantak Party (MGP),with its three MLAs, has made a comment that the chief minister's post should be handed over to the 'senior-most' minister.
MGP president Deepak Dhavalikar said that it was high-time that Parrikar gave the charge of chief minister to the 'senior-most' minister in his cabinet during his absence.
Looking at this very prospect, the senior most leader in the cabinet happens to be the PWD MinisterSudinDhavilkar, who is the elder brother of MGP president.
It is believed and reported widely that the Goa state government has not functioned normally in the last few months, because of the absence of Parrikar.
Meanwhile, a leader of another key ally - Goa Forward Party (GFP)VijaiSardesai has opposed MGP chief's comment by saying that Parrikar had formed the Cabinet Advisory Committee to run the state in his absence, and the decision was made after consulting with the allies.
Sardesai, who is the state agriculture minister, further added that even at that time, Parrikar had not handed over the charge to the senior-most minister, so why should charge be given now?
Looking at the possibilities and to avoid any unpleasant movement in the allies, BJP has sent a three-member team to Goa to identify the right person to lead the coalition, or at least name the 'stand-in' until more clarity comes on Goa Chief Minister Manohar Parrikar's health.
Meanwhile, the opposition Congress has blamed BJP for creating such an administrative mess because of the constant absence of the chief minister in the last few months.