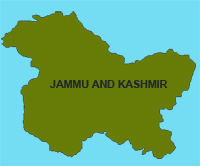 It is a huge success for the security forces and Jammu & Kashmir police as they killed five terrorists in an encounter in Kulgam. It has been reported that the militants belong to the Hizbul Mujahideen (HM) and Lashkar-e-Taiba (LeT) outfits.
As per J&K police, these terrorists were earlier involved in a series of terror acts, including killing of two bank employees and many policemen in different incidents. In addition, they were also involved in bank robberies and weapon looting.
Earlier, it was reported that the J&K Police and Security Forces have initiated an encounter in ChowgamKulgam region. The security personnel started a search operation Friday night after receiving intelligence inputs that few terrorists are hiding at Chowgam in Kulgam.
As per reports, the police have identified the terrorists as Gulzar Ahmad Paddar, Faisal Ahmad Rather, Zahid Ahmad Mir, MasroorMolvi and Zahoor Ahmad Lone, all residents of Jammu and Kashmir.
As per the state police, Gulzar Ahmad Paddar was a close associate to Altaf Kachroo, a top Hizbul Mujahideen, who was earlier killed in an encounter last month. He was involved in a series of terror attacks, including the attack on a bank cash van, in which five police personnel were killed.
Paddar was involved in the killing of another police officer at KrewanChidder in Kulgam.
Among others killed, MasroorMolvi alias Abu Darda was a resident of Fatehpora and was involved in multiple terror attacks in the valley and was also trying to recruit locals in their militant outfit.
As the security forces started operation, civilians were moved away from the place and train services between Baramulla-Qazigundwere suspended.Authorities had also suspended internet service in parts of Kulgam and Anantnag.
A Civilian Killed and Others Injured as Locals Protest.
Soon after the operation by the security forces, a protest broke out at the site, as locals started pelting stones at the forces. Manyprotesters were injured in the clashes between locals and security forces.
It is also reported that a local youth died who was hit by a bullet at the gunfight site.