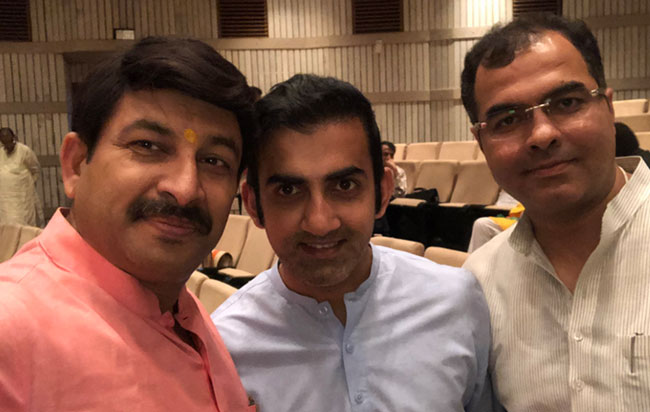 New Delhi, August 6: Delhi BJP President Shri Manoj Tiwari said that due to the indomitable political will of the Prime Minister Shri Narendra Modi and Union Home Minister Shri Amit Shah, the bill to remove Section 370 from Jammu and Kashmir was passed in the Rajya Sabha yesterday while today in the Lok Sabha also 351 votes. Passed by an overwhelming majority. This is a sign of unity, integrity of the country, where Dr. Shyama Prasad is about to realize Mukherjee's dreams. Shri Manoj Tiwari raised the slogan with MP Mr. Ramesh Bidhuri in the Parliament House precinct, "Where the Mukherjee sacrificed his life, the Kashmir is ours, it is all of ours."
Shri Tiwari said that while celebrating the historic decision to remove Article 370, the people are celebrating the unity of India, while at the Jawaharlal Nehru University yesterday, a handful of people proved this by raising anti-national slogans. Given how much the gang was divided by the decision of Prime Minister Shri Narendra Modi and Home Minister Mr. Amit Shah. He said that if Arvind Kejriwal had sent a file of Kanhaiya Kumar for further action, he would not have got any courage to do whatever happened in JNU last night.
Mr. Tiwari said that the BJP changed its resolution to reality in order to remove 370 and remove 370. Delhi Chief Minister Arvind Kejriwal has also supported the BJP's historic and courageous decision. He accused the Chief Minister, Kejriwal of lying so much that the people of Delhi have stopped relinquishing him. If Kejriwal loves the country and is not an urban Naxalite, then apologize to the public, to ask for proof of surgical strike, to question the Balakot air strike. Kejriwal stop supporting piecemeal gangs, approve proceedings against them. Otherwise Delhi will not forgive Kejriwal.
Mr. Tiwari said that Kejriwal supports Article 370 in the Parliament and on the other hand he supports the Ganges out of Parliament. Kejriwal's double character has now come before the people of Delhi, he will have to openly support one.
As soon as the bill to remove Article 370 was passed in the Lok Sabha, BJP workers in the state BJP office distributed sweets, burnt firecrackers and expressed happiness by raising slogans like Bharat Mata ki Jai, Vandemartam, Modi hai, Mummkin hai. Yuva Morcha took out a procession of youth from the state office under the leadership of Mr. Sunil Yadav and went to India gate and bowed to the martyrs. After this, after going to Janpath, the canat place Hanuman temple, including half a dozen places, took pleasure in the removal of Article 370.
--Source BJP