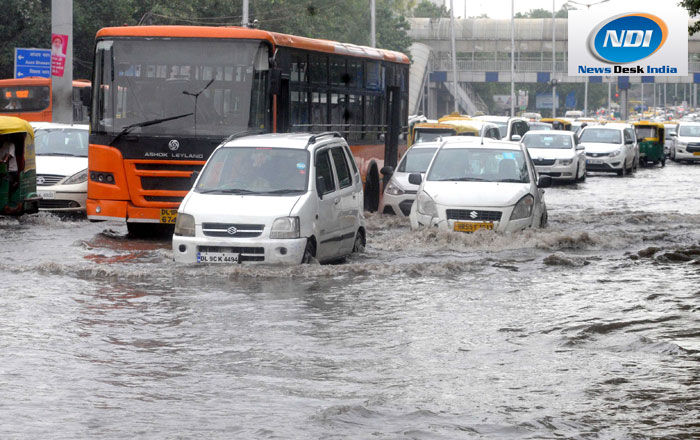 Delhi on Sunday morning has experienced heavy rains causing waterlogged roadsand traffic jam in several areas. While it brought the temperature down, it certainly has made the daily commute problematic with waterlogging.
As per traffic reports, waterlogging has been reported in almost every part of the city, including railway bridge on Bhairon Marg, Hanuman Setu on Ring Road, DhaulaKuan, Guru Nanak Chowk on JLN marg, DM office Nala Road in Geeta Colony, Okhla Sabzi Mandi, Netaji Subhash Marg and Rohini.
The Met department has earlier forecasted heavy rains and thunderstorm for Sunday. In the last 24 hours, Delhi has received 24.6 mm rainfall. The Safdarjung observatory has recorded 24.6 mm rainfall with humidity level at 95 percent.
The Delhi Traffic Police has posted multiple traffic alerts over rain and waterlogging on its Twitter handle. This has certainly helped the commuters in planning their travel. Since last evening itself, the traffic police has been constantly at work in updating people about the condition of roads in the city.
Traffic Alert
Waterlogging reported at nangloi Najafgarh road near water Tanki. pic.twitter.com/cjYQDnf1sw

— Delhi Traffic Police (@dtptraffic) September 2, 2018
Gurgaon has also experienced similar issues with waterlogging and power outages at several places. However, it has notaffected much,as Sunday had less traffic compared to usual weekdays.
Meanwhile, the Met Deptt. has forecasted moderate rainy weather for the next few days. While the Sunday rain only affected section of people, being a weekend, if further rain spell occurs in the start of next week, it would certainly affect office-goers and school children.
Waterlogging has always been a major issue in the city. With such heavy downpour, comes many other issues such as traffic jam, muddy roads, power outages and availability of drinking water, among others. Time and again, this has exposed the shoddy civic work by the municipal authorities in Delhi and NCR region.
--Deepak Kumar