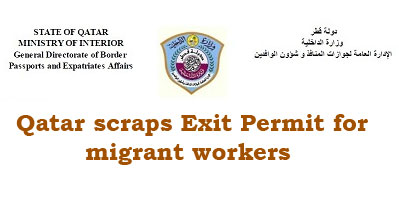 With a new legislation, Qatar has made the lives of migrant workers easier by scrapping the need to obtain exit visas from their employers to leave the country. This was indeed a welcome move by the Western Asian country; as such restrictions only violate basic human rights.
As per legislation, most of the migrant workers – barring five per cent who are engaged in few critical posts – now don't need any form of exit permit. This allows workers under the Labor Code freedom of movement. It is a much-needed reform, at least the beginning of something to ensure the fundamental rights of migrant workers.
The UN agency International Labour Organization (ILO), which is involved in monitoring the concerns regarding labor rights and labor standards, has expressed its satisfaction by saying that it is the first step towards full suppression of exit permits and a clear sign that the Qatar govt. is committed to labor reforms.
The new law however gives opportunity to employers to submit a list of employees to the Ministry of Administrative Development, Labour and Social Affairs, for whom a no-objection certificate is still required. However, the law has made it clear that the companies will have to provide justification based on the nature of the work. In addition, an employer can only submit a list containing 'no more than five per cent of the total workforce.
For those labors who are working outside the Labor Code, a Ministerial Decree will soon underline the rules and procedures allowing same benefits to the workers.
Stressing Qatar's genuine effort to improve the working conditions of migrant workers and labor rights in the country, Dr. Issa Saad Al Jafali Al Nuaimi, Minister of Administrative Development, Labour and Social Affairs said:
"The adoption of this law is another step in our continued drive to provide decent work for all migrant workers in Qatar and to ensure their protection."
For years now, Qatar's sponsorship law was one-sided by giving more power to the employers who were allowed to unilaterally cancel workers' residency permits, deny workers' ability to change employer, and reject right to leave the country without permission. In almost all cases, workers were asked to submit their passport soon after they join any company in the country.
There have been many cases reported in international media where concerns were raised by different countries for labor rights violation, arbitrary detention, torture by employee and allegation of worker exploitation.
Hopefully, this is just the beginning for some key and constructive changes in the Qatar legislations on labor rights that can guarantee fundamental rights to the immigrants.