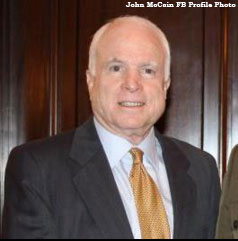 Senator John McCain, two-time Republican presidential contender and a Vietnam War hero, who served the United States at the highest level, died Saturday following a year long battlewith an advanced form of brain cancer (glioblastoma). He was 81.
McCain is highly regarded as one of the finest leaders of America, even at a time whenthe society is highly divided.
The Arizona senator will now rest in the Capitol Rotunda in Washington, D.C., and receive full state honor at the Washington National Cathedral.
From his service to the nation as a battlefield hero to his 35 years long political career in Congress, Mr. McCain has shown America that not many have shown the courage to achieve or stand for.
Ex-president Barack Obama, in his condolence message, spoke highly of the leader: "John McCain and I were members of different generations, came from completely different backgrounds and competed at the highest level of politics. But we shared, for all our differences, a fidelity to something higher -- the ideals for which generations of Americans and immigrants alike have fought, marched and sacrificed."
Obama then spoke about McCain's courage and determination to serve for the greater good: "Few of us have been tested the way John once was, or required to show the kind of courage that he did. But all of us can aspire to the courage to put the greater good above our own. At John's best, he showed us what that means. And for that, we are all in his debt. Michelle and I send our most heartfelt condolences to Cindy and their family."
Our statement on the passing of Senator John McCain: pic.twitter.com/3GBjNYxoj5

— Barack Obama (@BarackObama) 26 August 2018
For the people of America, it is indeed true that Mr. McCain represented a strong voice for every section of the society and always highlighted the cause that is good for the nation.
Someone who served 23 years in military, more than five years as a prisoner of war and then 35 years in politics, one could not have asked for more from this great man. Certainly, in modern American history, he will be remembered forever as one of the greatest patriots.
Even though he always was a loyal follower of the Republican Party, John McCain time and again spoke for the right reason, cause and principle that was in the best interest of America. Most recently, he made his displeasure clear about the US President Donald J. Trump.
There is no secret about McCain's feeling about Trump as a personality and as the President. This is true, as they both come from very different background and have different values. McCain denounced Trump's language and policies on immigrants.
John McCain's resistance to Trump's style of Republican politics and policies was always direct. He never shied away to criticize Trump's compliant words toward Russian President Vladimir Putin and even believed the 'possibility' of Russian interference in American elections.
He was also one of the senators who voted against Trump's effort to repeal President Obama's revolutionary healthcare legislation known as Obamacare.
Nevertheless, with the passing away of John McCain, the United States is going to miss someone who always stood tall for the greatest American interest. He always fought for the just principles in Republican Party and what he believed was right for the nation. In his belief system there was no hard-line rhetoric, rather a more unified and more inclusive philosophy.
--Deepak Mohanty