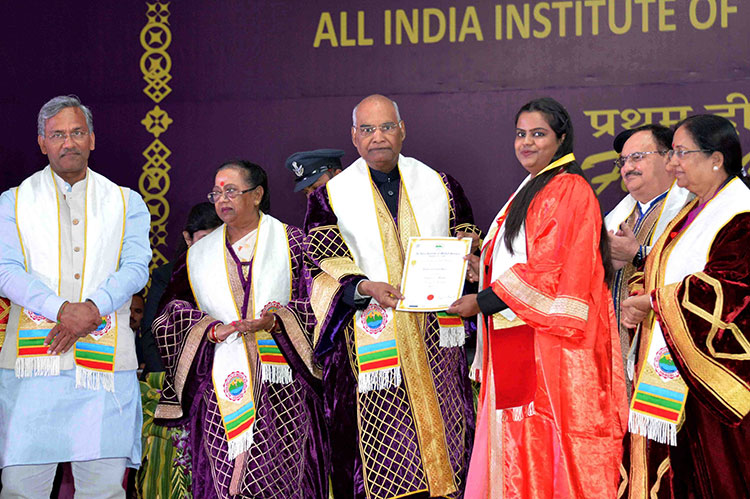 The President of India, Ram Nath Kovind addressed the first convocation of AIIMS Rishikesh, Rishikesh, in Uttarakhand today. In his address he has said that AIIMS in a symbol of excellence in the field of medical care and research in India.
He urged Young doctors to dedicate themselves to the cause of health services.
He was addressing the Young doctors on the occasion of first convocation of All India Institute of Medical science at Rishikesh today.
President said that he is proud of this moment because this time gold medalists in the different streams have been girl students.
The President expressed hope that AIIMS at Rishikesh will develop many super-sociality facilities so that people get benefited from the service. This will allow people from other areas to come and get benefits of high quality treatment.
He also urged doctors to research health-related issues which are most prevalent in Uttarakhand region.
All India Institute of Medical Sciences Rishikesh was established in 2012 and this is the first convocation of AIIMS at Rishikesh. The AIIMS at Rishikesh is a medical college, Hospital and medical research public university in Uttarakhand.
Earlier in the day today, the President also inaugurated Gyan Kumbh in Haridwar. The Gyan Kumbh in Haridwar is a conference which is being organised by the government of Uttarakhand and the University of Patanjali, Haridwar.
The AIIMS (at 7 different locations in India) are medical Institutes operates autonomously under the Ministry of Health and Family Welfare.
AIIMS in India:
AIIMS New Delhi
AIIMS Bhopal
AIIMS Bhubaneswar
AIIMS Jodhpur
AIIMS Patna
AIIMS Raipur
AIIMS Rishikesh
The AIIMS are premier medical institutions in India providing high quality medical services in Country.
AIIMS is already started medical services under 'Ayushman Bharat' program which is National Health Protection Scheme, which was launched six months ago on 14 April 2018.