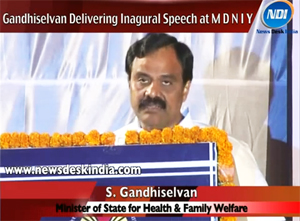 (New Delhi; Correspondent): A week long National Yoga program is being going on at Morarji Desai National Institute of Yoga (MDNIY) from 18th Feb 2013. The theme of this 7th annual program is dedicated to Adolescent.
Minister of State for Health and Family Welfare S Gandhiselvan officially inaugurated the National Yoga Week 2013 for Adolescent.
"Adolescence is the most crucial and the most fascinating stage in the life of a person. But at his stage, adolescent experiences many developmental changes in the body, mind, social and personality. At this stage, Yoga helps them to adjust according to the changes in a very natural manner, said Gandhiselvan in his presidential speech.
He also inaugurated two booklets - a Souvenir and an Abstract Book.
Welcoming to Health Minister and other guest members, the Director of MDNIY Ishwar V Basavaraddi said, "I heartily Welcome to Minister of State for Health and Family Welfare S Gandhiselvan who gave his prestigious time to us."
Describing about the 7th annual week program, Basavaraddi said, "Yoga is feasible and profitable for all age group persons but for adolescent who faces critical problem at the juncture of transition, Yoga might be highly profitable to them."
"It is the critical phase where the adolescents face pressure, stress, emotional outburst, anxiety, tension and turmoil from parents, teachers, peer groups and society. It is the period of high risk in human life cycle due to active process of degeneration and decay of tissues in the body. Yoga is a refreshing natural process as well as a holistic positive lifestyle. It can maximize the talents and potentials of Adolescents, he added.
He also gave the detail description of the program that will go on within the week. These are:
Three days National Conference on the theme of 'Yoga for Adolescents'
One day National Seminar on the theme 'Contribution of Swami Vivekananda for the propagation of Yoga in the Modern Age'.
Three days National Workshops on 'Yoga for Adolescents' by eminent Yoga experts of leading Yoga Institutes and modern applied Psychologists.
Shri Anil Kumar Ganeriwala, Joint Secretary to the Govt. of India, Ministry of Health & Family Welfare, Department of AYUSH and Dr. Mukund Vinayak Bhole, an eminent Yoga Expert & Former Joint Director of Research Kaivalyadham, Lonavala, Pune; will be the Guest of Honour. Dr. H. R. Nagendra, Vice ­Chancellor, SVYASA, Bangalore, were the guests of the inaugural occassion.