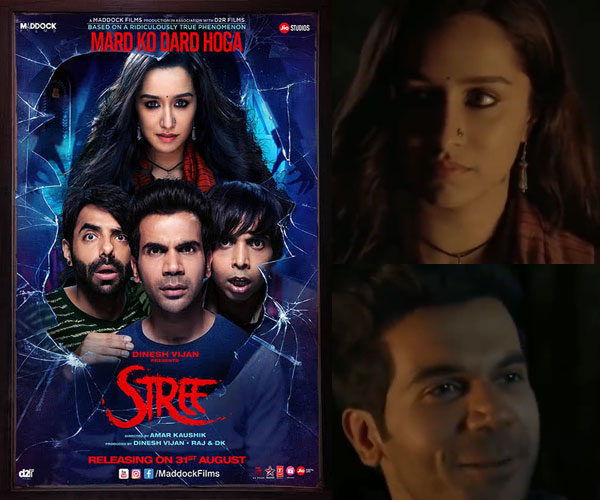 Looks like there is no stopping the chudail of Chanderi now. The movie that was released on lead actor Raj Kummar Rao's birthday to high expectations on account of strong pre-launch word-of-mouth publicity has actually stood the BO test. To quote media analyst Taran Adarsh's Twitter post, "#Stree runs riot at the BO… Surpasses expectations by putting up a FANTASTIC TOTAL on Day 4 [#Janmashtami holiday]… Fri 6.83 cr, Sat 10.87 cr, Sun 14.57 cr, Mon 9.70 cr. Total: ₹ 41.97 cr. India biz… This one's a SUPER HIT."
Set against the backdrop of the historic town of Chanderi, the plot revolves around an avenging spirit who returns to haunt the town every year around the time of the temple festival. The taut tone of terror is spiced with humor and topped with a liberal dose of social messaging much to the delight of women who are still largely at a disadvantage in this country.
The lead actors deliver convincing performances. Raj Kummar Rao is brilliant as the young, successful tailor with a heart of gold. Aparshakti Khurana as Bittu, Abhishek Banerjee as Janna, and Pankaj Tripathi as the know-it-all Rudra all are commendable for the ease with which they meld into the small-town milieu. Atul Srivastava does full justice to his small role as Bicky's father.
The only actor who could have done better is Shraddha Kapoor; she is somewhat wooden compared to rest of the lead actors whose facial contortions and comic timing are just impeccable. Especially priceless is the moment when Bicky is called upon on glance lovingly into Stree's eyes just as he is caught in a situation when anyone's nerves would give away.
There is nothing timeless about the music- it is upbeat and songs like Kamariya go well with the context.
A closer examination may reveal flaws; one could argue that the movie actually promotes superstitions. But as long as you are willing to suspend disbelief and cynicism awhile, what we have here is a thorough entertainer. It is to the credit of debutant director Amar Kaushik that he has managed so effortlessly to maintain the eeriness right through the laugh riot.
Going by the tremendous box office response, the movie is set to join the ranks of the handful of successful horror comedies such as BhoolBhulaiyaa launched in 2007 and Golmaal Again in 2017. It would seem that the Indian audiences now want more than vanilla (huh! really?) horror and are ready for different flavors. That Stree is in demand everywhere right from small town movie halls to multiplexes stands evidence to the changing tastes.
--Uma Sivaprakash