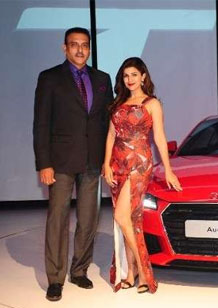 On Monday there were flying reports about Bollywood actress Nimrat Kaur courting Team India's coach Ravi Shastri with the social media making the rumours viral. The news was based on a report by Mumbai Mirror, was surprising and equally exciting for the followers. However, the speculated couple emphatically rubbished the news of their secret two years relationship in their own ways.
In the afternoon on Monday, Nimrat tweeted a cryptic message which read as "Fact: I may need a root canal. Fiction: Everything else I read about me today. More facts: Fiction can be more hurtful, monday blues exist and I love ice cream. Here's to trash free happy days ahead". She was unfortunately trolled by a lot of twitter users on her dismissal of the hearsay. While Nimrat took to social media to speak her mind, Ravi Shastri while talking to the Asian Age over phone commented that there was nothing to say when what has emerged is "the biggest load of cow dung". When the interviewer tried to mince words and ask Shastri about his last meeting with Nimrat, he said that the person must understand when he terms the reports as 'cow dung'.
As reported by Mumbai Mirror, the alleged duo has been seeing each other since two years after meeting through a mutual friend and to avoid making headlines had kept the affair under wraps. The tabloid also reported that both were spotted on multiple occasions after making appearances at car launches, being associated with a German luxury automobile company since 2015. It was also reported that the Indian Cricket Coach aged 56, who is separated from his ex-wife Ritu over a decade now, had fallen head-over-heels in love with beautiful, 36 years old diva. The tabloid also mentioned that it might be more than just co-incidence that the two stars were roped in and paired by the said luxury carmakers.
On the work front, former cricketer Ravi Shastri is busy on England Tour with Indian cricket team. Nimrat Kaur, who starred in hit flick Airlift opposite Akshay Kumar and gave a terrific performance in critically acclaimed Lunchbox alongside Irrfan Khan and Nawazuddin Siddiqui, is currently shooting for the next season of The Test Case, a web series for ALT Balaji app.
While Nimrat Kaur keeps her private life away from media glare, Ravi Shastri is a flamboyant personality who was once he heartthrob of the Indian Cricket team. Ravi is said to have dated another Bollywood actress Amrita Singh, the estranged wife of Saif Ali Khan, in the 80s and their liaison created quite a buzz during that time. It is even said that he was engaged to the actress but the two called it off due to differences.