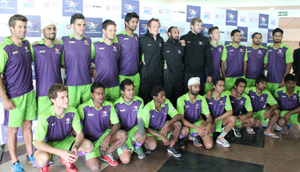 The Delhi Waveriders, one of the five Hockey franchises of Hockey India League (HIL) Thursday began its city campaign in Delhi in order to creating awareness in the Delhiites.
For this, the Delhi franchise in the Hero Hockey India League, today arrive at national capital and launch its jersey.
Speaking on the occasion, Mr. Amar Sinha, CEO, DELHI WAVERIDERS said, "I feel elated in inviting the city to be a part of the iconic battle of 5 squads at the National stadium, honouring our national sport. In an effort to promote the sport, and recoup its long lost sheen, the campaign 'Hello Hockey'was also kick- started to reinvent and re- introduce the sport hockey to the masses."
Mr. Ajit Pal Singh, Chief Advisor, DELHI WAVERIDERS said, "It is a moment of honour and pride for us to be associated with something as momentous as Hero Hockey India League, extending my gratitude to Wave for having partnered for the cause of promoting the sport- Hockey. DELHI WAVERIDERS is a strong team and with my knowledge and expertise which I have gathered over the years, I aim at getting the best out of each player to explore their newer potentials and make the initiative- HIL- a grand success!"
The first season of the Hero Hockey India League, is scheduled to kick start from January 14 and would conclude on February 10, 2013 with the five teams, competing against each other in 34 matches. Wave Group has decided to give away free tickets for the first match of the season to keep up the sportsman spirit for the game and to celebrate one-of-its kind tournament for the national game of the country, upholding the National Glory.
Team:
Sardar Singh, marquee player for Delhi Waveriders, bought for $78,000 (Rs. 42.5 lakh) Nicolas Jacobi, Pirmin Blaak, Rupinder Pal Singh, Rahul Shilpkar, Surender Kumar, Taeke Taekema, Vikramjit Singh, Bipin Kirketta, Gurbaj Singh, Mohammad Rizwan Jr, Andres Mir Bel, Hans Raj, Imran Khan, Oscar Deeke, Yuvraj Valmiki, Gurvinder Chandi, Lloyd Norris, Matt Ghodes, Danish Mujtaba, Akashdeep Singh, Mohammad Rizwan Sr., Simon Child & Talvinder Singh.