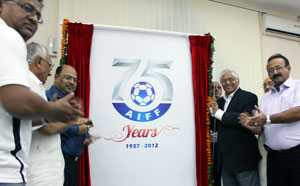 All India Football Federation (AIFF) on Saturday (June 23) turned 75 as it was launched on the same day in Shimla in 1937.
For marking its 75th anniversary, AIFF launched a Platinum Jubilee celebration at it's headquarter 'The Football House' on Saturday amid the presence of former India Captain and legendary footballer Chuni Goswami and senior officials of the federation.
To make remarkable to this platinum jubilee year, AIFF has decided to continue the celebration for the whole year till June 22, 2013.
Chunni Goswami, who unveiled AIFF's Platinum Jubilee logo recalled his golden memories and cited the '75 year of AIFF' as a golden glory of Indian Football. He also appreciated the federation for appointing foreign coaches.
"I need to mention that AIFF has brought in quality coaching staff in all age groups. It's up to the Indian Coaches who work with them to learn the finer points of the trade," he commented.
AIFF President Praful Patel, who was not present on this occasstion said in his message, "It is indeed a great occasion that we are 75 years old. I am sure that with the programme undertaken in the Platinum Jubilee year we will go a long way in creating the right impetus to take Indian football to the next level in due course."
AIFF General Secretary Kushal Das looked back the path travelled so far and also informed about the future plan of AIFF.
"AIFF has big plans for the development of football specially the launch of Youth Academies which will go a long way in improving and developing the game in India," he said.
On this occasion, AIFF Senior Vice Presidents AR Khaleel and Subrata Dutta were also present as were Hardev Jadeja, Ankur Dutta, Tempo Bhutia and Sunil Bharadwaj were also present.