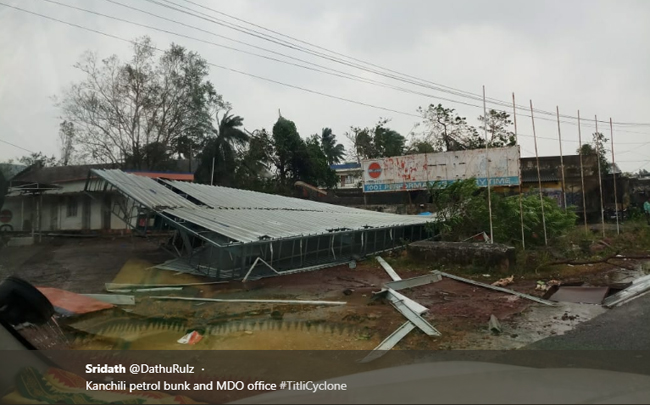 Severe cyclonic storm 'Cyclone Titli' swirling over the Bay of Bengal has intensified into the 'very severe' category killing at least eight people in Srikakulam and Vizianagaram districts of Andhra Pradesh on Thursday (October 11).
Meanwhile, in Odisha, at least six persons, including four members of a family, have been missing after their house was washed away by flood waters following heavy rains in Ganjam district of the state.
To take up rescue and relief operations, National Disaster Response Force (NDRF) and State Disaster Response Force (SDRF) teams have been deployed in Srikakulam and Vizianagaram districts of Andhra Pradesh. As a precautionary measure, the state-owned road transport corporation, Andhra Pradesh State Road Transport Corporation (APSRTC) has suspended all its bus services on the Andhra-Odisha border area.
Earlier in the day, Andhra state Chief Minister N Chandrababu Naidu took stock of the cyclone situation during a meeting with top officials in Vijayawada. After the meeting, Naidu directed officials to launch immediate relief operations and also to closely monitor the situation.
. @RSSorg is ready to rescue seviour cyclone #TitliCyclone affected area and victimized people.....
That is the spirit of swayamsevak...
Bharat mata ki Jay....#Odisha pic.twitter.com/esWo6d4ZHl

— #(@chintanvedant) October 11, 2018
Due to the cyclone, several trains have been terminated, rescheduled and diverted. Earlier, on Wednesday, the East Coast Railway (ECoR), canceled at least eight trains and suspended services between Khurda Road in Odisha and Vizianagaram. As per local media reports, several railway stations have suffered damage due to the cyclonic storm and railway officials are studying the impact of the cyclone.
The intensified storm has reportedly caused widespread damage to people's houses, uprooted trees and also snapped telephone poles and power lines leaving hundreds of thousands without electricity.
--Deepak Kumar