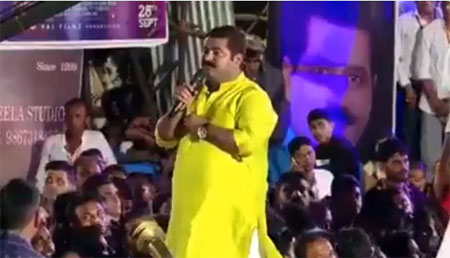 After making derogatory remarks on women, BJP MLA from Ghatkopar West, Ram Kadam, expressed regret for his statement by saying that his words has been taken out of context in an attempt to malign his image.
Earlier this week, a video went viral on social media in which Mr. Kadam was shown speaking at a Dahi Handi event where he remarked that if a boy wants to marry a girl, who has declined his offer, Kadam will help the boy abducting the girl if the boy's parents approve the marriage.
The video even shown Kadam giving his mobile number to the crowd in case anyone needs such help.
बेताल वक्तव्य करणारा भाजपा नेत्यांमध्ये आणखी ऐकाची भर.. रक्षाबंधन , दहिकाला उत्सव या पवित्र सणा दिवशी आमदाराने तोडले आपल्या अकलेचे तारे !
कशा राहतील यांचा राज्यात महिला सुरक्षित? pic.twitter.com/Z5JAx5ewrN

— Dr.Jitendra Awhad (@Awhadspeaks) 4 September 2018
Kadam on the other hand claimed that everyone has taken his statement in a wrong way by watching a 40-second clip. He said that what he meant was that every youth, irrespective of their gender, should marry as per their parents' wishes.
Netizens were quick to respond by questioning the intention of BJP government in general, asking the party leadership to act against the unruly MLA for his obnoxious statement over women.
In a time when violence against women are increasing, such statements from an elected member of the ruling party is shameful and simply proves the fact that many are still not sensitive enough to understand the grave issues in our society.
While we are yet to hear anything from the top BJP leadership of Maharashtra over the senseless statement, opposition parties were quick to respond.
Yuva Sena president Aaditya Thackeray tweeted: "One BJP MLA has offered from a stage to help boys kidnap girls and marry them even against the will of the girls. I guess he believes marriage is like forming a govt. Ashamed and disgraced that he sits in the legislative assembly of Maharashtra- a land of culture & women liberty."
Thackeray even went ahead and not only asked an outright apology from the BJP MLA, but also wanted to know from the Home Minister of Maharashtra that what action would be taken for openly making such statements that threaten the safety of girls.
Congress party leader Radhakrishna Vikhe Patil asked the Maharashtra government for the immediate arrest of Ram Kadam. Another leader from the party Sanjay Nirupam even urged all the women not to vote and support BJP until people like Ram Kadam are expelled.
Among others, leaders from the Raj Thackeray-led Maharashtra Navnirman Sena (MNS) as well as the Nationalist Congress Party (NCP) even named him "Ravan Kadam". They called for immediate action against the BJP leader Ram Kadam.