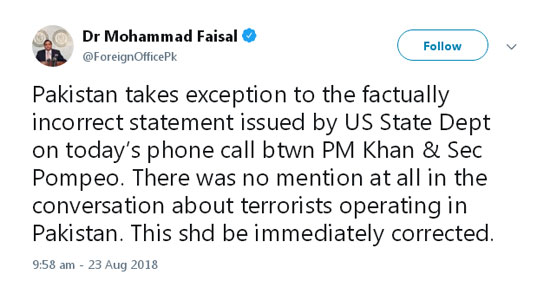 Stressing that Pakistan is an important partner to the United States, the US government says that it 'stands by' its readout of the phone call between Secretary of State Michael R. Pompeoand newly elected Pakistan Prime Minister Imran Khan – where the Pompeotold Khan to take decisive action against the terrorists operating from Pakistan.
Earlier, the Pakistani government took objection to the statement that there was any discussion on "terrorists operating in Pakistan," and hence termed the US State Department readout as 'factually incorrect.'
The US Department of State statement reads: "Secretary Michael R. Pompeo spoke today with Pakistani Prime Minister Imran Khan and wished him success. Secretary Pompeo expressed his willingness to work with the new government towards a productive bilateral relationship. Secretary Pompeo raised the importance of Pakistan taking decisive action against all terrorists operating in Pakistan and its vital role in promoting the Afghan peace process."
In response to the statement, the Spokesperson Ministry of Foreign Affairs PakistanMohammad Faisalcategorically refuted US State Department's claim of having any discussion on taking action against all terrorists operating in Pakistan.
Pakistan takes exception to the factually incorrect statement issued by US State Dept on today's phone call btwn PM Khan & Sec Pompeo. There was no mention at all in the conversation about terrorists operating in Pakistan. This shd be immediately corrected.

— Dr Mohammad Faisal (@ForeignOfficePk) August 23, 2018
Responding to press on whether US wants to correct the statement made earlier, the State Department spokesperson Heather Nauert pressed that the Secretary of State had a good call with the Pakistan PM towards a productive bilateral relationship, and they stand by their readout.
She said: 'Pakistan is an important partner to the United States. We hope to forge a good, productive working relationship with the new civilian government … we stand by our readout.'
So, this is the latest episode of diplomatic scrimmage between the already volatile Trump administration in the United States and the Pakistan government. The new civilian authority in Pakistan seems to take a tough stand on its relationship with the States.
As per reports, Pompeo is expected to visit Pakistan early next month on September 5, en route to New Delhi. So, it would be a talking point for now, as everyone knows that Pakistan's new Prime Minister Imran Khan has been a critic of American policies in the region. At the same time, US President Donald Trump is gradually cutting down its aid to Pakistan.
It would also be critical for both the countries to talk freely and wisely on the United States' role in Afghanistan. While Khan is now the Prime Minister of Pakistan, his views on America – including his wish to shoot down any US Drone, violating the sovereignty of his country – are very well-known. In such case, both Trump and Khan will try to balance their relationship without stretching it further.
--Deepak Mohanty